DATE: 1 October 2022
The Rakiura Challenge is a trail-running weekend event. Entrants must plan for a 2-night stay on Stewart Island on the Friday and Saturday nights of the weekend.
Race Date Start Time: 8:30am
All competitors staying in Oban will be transported to the start area on race morning.
RACE BRIEFING
The Oban Community Centre will be open from 7:30pm on Friday night for a Pasta type Dinner for all competitors. This will be followed by a full race briefing led by the Race Director.
PRIZE GIVING
Prize giving will be held at the Oban Community Centre 6:30pm on Saturday the 1 October. This will be followed by a prize giving dinner.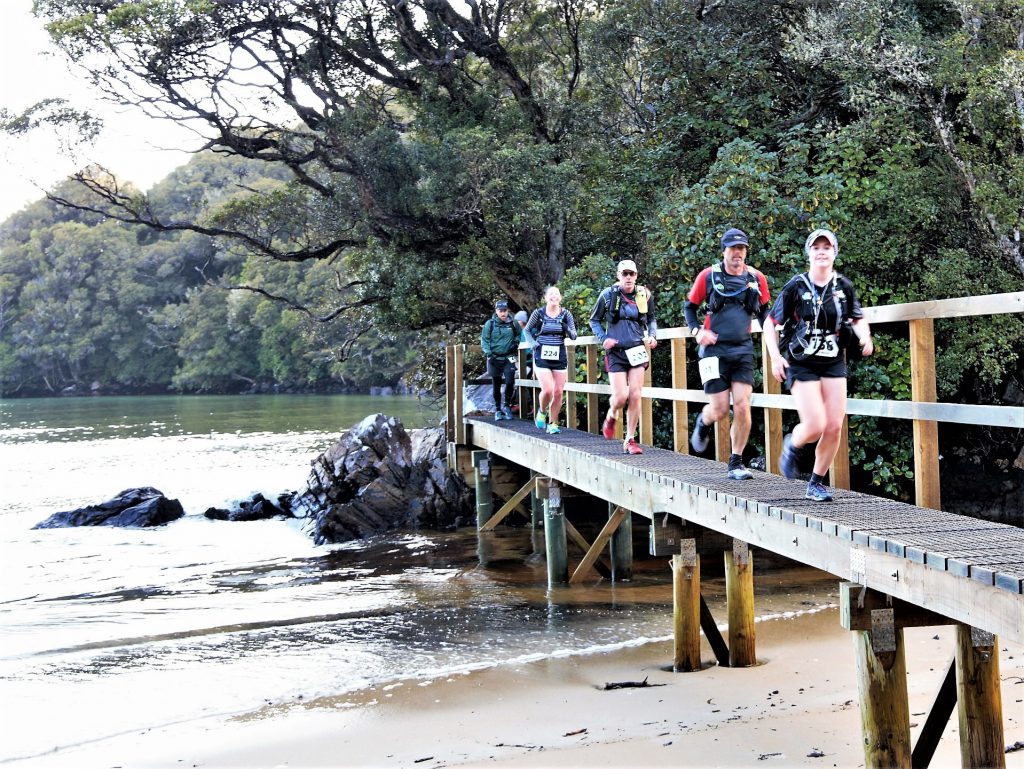 RUNNER GEAR
The weather on Rakiura/Stewart Island is very changeable. Participants should come prepared for all weather conditions. In addition to clothing being worn during the run, as a condition of entry all participants must carry the following:
• Thermal long-sleeved top and leggings
• Thermal Hat
• Gloves
• Wind & Waterproof Jacket
• Survival Blanket
• Drink bladder or equivalent, (minimum 2 litres of fluid) and food suitable for a four to eight hour run/walk.
COMPETITORS
Organisers reserve the right to refuse entry to any competitor considered not capable of completing,
Participants must be 15 years of age or older. Participants younger than 15 will be considered on a case by case basis by contacting the race director.
Organisers reserve the right to withdraw, or turn back, competitors who have not reached the Log Hauler turn-off (above Port Williams) by 10.30am.
Organisers reserve the right to withdraw competitors who have not reached the Burnt Boat Beach check-point 2.30pm. Water Taxis are available from this point.
All competitors must attend a Safety Briefing to be delivered at the start line 15 minutes prior to the start.
TAIL-END CHARLIE
The last competitor will be shadowed by a Trail-end Marshal.
The Tail-End Marshal will carry a competitor list which will be checked at check points on the course to ensure that no runners have left the course.
RACE HQ
Race Base for the day will be stationed in Oban, staffed by the Race Radio Controller, Police, Marshal Coordinator and the Race Director.
FINISH
The Rakiura Challenge will finish along the beach front on Elgin Terrace by the Oban Township sign.
TRANSPORT ONTO AND OFF THE COURSE
• Water taxis to assist with and support marshal placement and evacuation.
• Water taxis for emergency call-out and evacuation
• Helicopter for emergency call-out and evacuation
CANCELLATION
The event will be cancelled if, in the opinion of the Police, Search and Rescue Group and the organisers, the weather is so inclement and result in high winds, torrential rain, risk of trees being blown over the track and causing injury or causing slips and landslides.
The final responsibility and decision are with the Race Director. Announcement of cancellation to competitors and the public is to be made by the Race Director.